Oceana High School
Class of 1969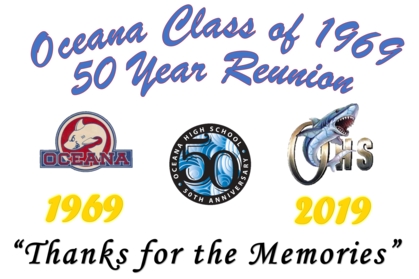 The 50-year reunion is in the history books because it was epic! Watch our Facebook group for photos. Stay tuned for the 55-year reunion in 2024!
SUMMER PICNIC PLANS
POSTPONED
DUE TO THE CORONAVIRUS EMERGENCY
Hello fellow Sharks! This is the website for the Oceana Class of 1969 where we will post reunion announcements, register classmates, and collect payments. This is SEPARATE from Facebook, Classmates, or any other system. To participate, you must register on this website. All that's required to join is that you click on Classmate Profiles (on the left) and fill in your profile information. If you don't see your name listed, there's a button to add yourself.
We hope every classmate will join this site. If you know of a classmate who has not joined we hope you will encourage them to do so. This is a secured site, our information is safe, and you do not have to pay a fee to join.
After you get your Profile set up, please check out the links on the left side of this page. You can link to our Facebook group using the button below.
We would appreciate any assistance you can give us in locating those classmates we haven't found yet. We have worked diligently scouring the Web, but you might have information that would help our detective work. Do you know the middle initial, birth date, parents' names or street where any of these classmates lived when we were in school? If so, please contact Chris Hawkes (wchawkes@gmail.com).
Those classmates who have already passed should never be forgotten. Please remember them dearly when you look over the list of names. Sadly, there are a few for whom we don't have much obituary information. If there is nothing following their name, we need more information. If you have information about a classmate who has passed, please contact Chris Hawkes (wchawkes@gmail.com).